Head of Entrepreneurship, Hong Kong Cyberport Management Company Limited
香港數碼港管理有限公司創業家組總監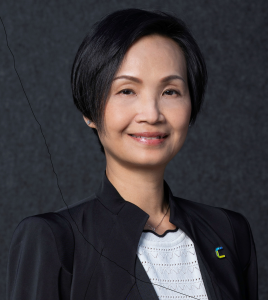 As a passionate, strategic and result-driven leader with regional exposure, Alice has been dedicated to provide supports to Hong Kong start-ups for more than a decade. Before she joined Hong Kong Cyberport Management Company Limited in 2011, she worked for the Hong Kong and Science Technology Parks. She also joined various multinational companies in plastic resins, chemical and pharmaceutical businesses, with an extensive business development experience in regional markets. Currently as the Head of Entrepreneurship, Alice leads the Entrepreneurship Team to nurture digital tech talents and startups at different life stages to accelerate in the industry worldwide, through the Cyberport Creative Micro Fund and the Cyberport Incubation Programme with financial support and professional services. She also drives the integration of traditional and new economies through adopting more innovative solutions as well as strengthens the collaboration of different stakeholders to foster the development of local industries and the economy. She strongly believes in the significance of developing entrepreneurial mindset of the next generations.
Alice holds a Degree in Public and Social Administration and a Master in Engineering Business Management. Alice has been in the judging and assessment panels for signature technology awards and innovation funding schemes including the Hong Kong ICT Award, the Jumpstarter of Alibaba Entrepreneurs Fund and the TSSSU fundings of universities, etc. Alice is a Council Member of the Hong Kong Computer Society (2021-22) and a Project Management Professional of the Project Management Institute.
作為一個充滿熱誠、有策略、成果導向和擁有豐富地區經驗的領袖,蘇雅麗女士致力培育及支持香港初創企業已超過十年。她在2011年加入香港數碼港管理有限公司,之前曾於香港科技園任職,亦曾在塑料,化學品和製藥業務的跨國公司工作,在區域市場拓展方面有豐富經驗。蘇女士目前於數碼港擔任創業家組總監,帶領創業家組團隊透過數碼港創意微型基金和數碼港培育計劃培育人才,為初創提供財務支持和專業服務,並協助初創加速業務發展。蘇女士致力推動傳統經濟與新經濟融合,透過連繫策略夥伴及投資者,促進協作,加快數碼科技應用發展。她堅信發展企業家思維對下一代的重要性。
蘇女士擁有公共及社會管理學士學位及工程商業管理碩士學位。蘇女士曾擔任各科技獎項及創新資助計劃的評審, 包括香港資訊及通訊科技獎、阿里巴巴企業家創業者基金 Jumpstarter 、大學科技初創企業資助計劃等。蘇女士是香港電腦學會2021-22理事會成員及項目管理協會的項目管理專業人員。