Head of Information Technology, Hong Kong Trade Development Council
香港貿易發展局資訊科技主管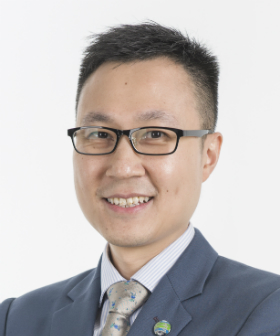 Dave has over 18 years of solid IT experience and proven track record as Senior Manager and Chief Architect on IT strategic planning and architecture roadmap.
He is an evangelist in the area of Enterprise Architecture, leading the IT Architect community in HK. He is currently the convenor of HK Computer Society, Enterprise Architecture Specialist Group (EASG). He was also the Chairperson of HKCS EASIG (renamed to EASG) since 2014.
He is a Fellow member of HKCS. In the past 8 years contribution to HKCS, he has organized over 30 events including the largest Enterprise Architecture event in HK every year with a record hit of over 180 attendees.
Besides EASG, he actively contributes to the HK IT industry by taking different voluntary roles including:
Founder & Chairman of Association of Enterprise Architects, HK Chapter
Member of Certification Board of HK Institute of IT Professional Certification (HKITPC)
Organizing & Programme Committee for HK International Computer Conference (HKICC)
Technical Advisory Committee for Robocon HK
Assessor for CPIT (System Architect) certification
Member of OGCIO HK-GD ICT Expert Committee (2016-2018)
He holds an MSc in Software Engineering and has attained professional qualifications of TOGAF, CSSLP, ITIL, COBIT, AWS Solution Architect and CPIT(SA). He is currently a AWS Authorized Instructor (AAI) and was a ISC(2) Authorized Instructor.
He is a passionate and active speaker, author and panellist in different professional forum and conferences in Asia, including largest cloud and datacentre summit in HK.
陳俊偉先生(Dave) 擁有逾18年資訊科技行業服務經驗,他專長於策劃資訊科技策略及提供企業架構建議,他的傑出表現有目共睹。
陳先生是企業架構專家,並熱心推動業界發展。陳先生現為香港電腦學會企業架構專家小組召集人。在此,陳先生從2014年起,擔任香港電腦學會雲端運算及企業架構設計專題組(其後更名為企業架構專家小組)主席。
陳先生是香港電腦學會資深會員。在過往多年,陳先生協助香港電腦學會舉辦30多項活動,包括年度企業架構活動,活動更吸引超過180名業界專業人士參加。
陳先生推動資訊科技界發展不遺餘力,積極參加業界活動及提供專業建議,當中包括:
Association of Enterprise Architects香港分會創辦人及主席
香港資訊科技專業認證局認證委員會委員
香港國際電腦會議籌備及程序委員會委員
全港大專生機械人大賽技術顧問委員會委員
CPIT (系統架構師)証書評審委員
粵港信息化專家委員會委員 (2016-2018)
陳先生擁有軟件工程學碩士學位及其他相關專業認証:TOGAF, CSSLP, ITIL, COBIT, AWS Solution Architect and CPIT(SA). 陳先生是AWS及曾是ISC(2)認可導師(Authorized Instructor )。
作為充滿熱忱的資訊科技專家,陳先生積極地以講者,作者,以及討論會專家角色參與區內專業會議及講座,分享業界訊息。