Chief Information Officer & Director of Corporate Information Technology, International Finance Corporation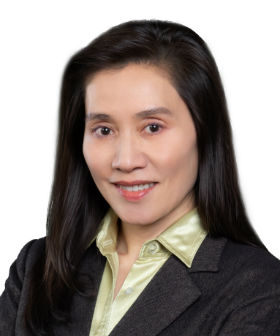 Suk-Wah Kwok has been the Asia Pacific Regional CIO of Lockton Companies since 2012. A multi-award winning company headquartered in US, Lockton is the largest privately owned insurance brokerage firm in the world, and ranked 10th overall.
Prior to Lockton, Suk-Wah was the Hong Kong CIO of Aon, the world's largest insurance broker, for over 10 years, and was instrumental in leading Aon to be the first FSI (Financial Services Institution) in Asia to successfully migrate key IT services to public cloud when cloud technology was still at its infancy.
Suk-Wah's IT career spans almost 30 years. She was a Project Manager with Sun Microsystems during 90's Internet boom. After Sun, Suk-Wah held various IT management positions including Head of IT, Asia Pacific for Baring Asset Management, and Operation Director for commercial data centers, before taking up CIO positions in multinational insurance broking firms.
Suk-Wah is an experienced CIO well known for her versatility and insightful ideas. She is highly regarded in the industry for her courage in early adoption of leading edge technologies and her success in leading IT enabled transformations. For her long standing track record, she was awarded 2015 Top 5 CIO in China in January 2016, and Hong Kong CIO of the Year (Medium Enterprise Category) in March 2016.
Suk-Wah graduated with a First Class Honors in Computer Science from the University of Sydney and holds an MBA majoring in Finance from the University of Technology, Sydney.
She was Chairperson of the HKMA IT Management Club from 2014 to 2017 and is currently a Council Member and the Treasurer of the Hong Kong Computer Society.
Outside the IT industry, Suk-Wah served in the Hong Kong Auxiliary Police from 1998 to 2018. She was a Senior Woman Inspector of Police.
自2012年以來,郭淑華女士擔任諾德保險經紀有限公司亞太區資訊科技總監一職,總部位於美國,屢獲殊榮的諾德保險是全球最大的私營保險經紀公司。
在加入諾德保險經紀有限公司之前,郭女士服務怡安保險顧問有限公司逾十年,並擔任香港資訊科技總監。在雲技術還處於起步階段時,郭女士領導怡安保險顧問有限公司成為亞洲第一家成功遷移關鍵資訊科技服務的FSI(金融服務機構)到公共雲,成績有目共睹。
郭女士於資訊科技行業擁有逾三十年豐富經驗,在90年代互聯網熱潮期間,她是Sun Microsystems(昇陽電腦)的項目經理。繼Sun Microsystems之後,郭女士曾擔任多個IT管理職位,包括負責資產管理的亞太區資訊科技主管,商業數據中心營運總監,之後擔任跨國保險經紀公司的資訊科技總監職位。
作為一位經驗豐富的資訊科技總監,郭女士以多方面才幹和富有洞察力的想法而聞名。由於她在早期採用尖端技術方面的勇氣以及她在領導IT支持轉型方面的成功,她在業界備受推崇。憑藉其長期傑出表現,郭女士於2016年1月榮獲2015年度中國五大杰出CIO,並於2016年3月榮獲香港年度CIO(中型企業類)。
郭女士於University of Sydney (澳洲悉尼大學) 取得電腦科學(一等榮譽)學士學位,並於University of Technology, Sydney (澳洲悉尼科技大學) 取得工商管理碩士(金融)學位。
郭女士於二零一四年至二零一七年擔任香港管理專業協會資訊科技管理研究社主席,現為香港電腦學會副會長(內務)及名譽司庫。
除在資訊科技行業之外,郭女士在公餘時間熱忱服務社會,她於1998年至2018年在香港輔助警察隊服務,官至女高級督察。