Chairperson, HKCS FACE Club
HKCS FACE Club 主席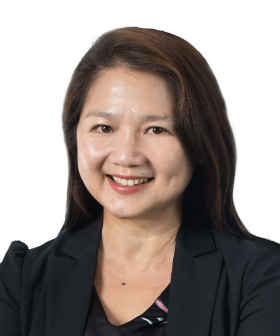 Christine Yau has over 20 years working experience and she is currently the Senior Vice President of PCCW Solutions Ltd. During the past years, she has led the development and delivery of IS Strategy and Architecture for the company, development of a global work package for Sales & Marketing for Cable & Wireless group, implementation of Data Warehouse in Barbados and she has also held various roles in various projects that span across different industries including both government and enterprise sectors. She has held various roles such as Project Director, Project Manager, Quality Assurance Manager, Business Process Re-engineering (BPR) Change Manager, IT Architect and DBA, both in Hong Kong and Australia. Ms. Yau is responsible for managing the P&L for the Public industry of the company for both HK and regional.   One of her major focus is on strategic planning and growth of the company outside of Hong Kong, i.e. to drive the new business growth initiatives in the Public industry.
Ms. Yau graduated from The University of Melbourne, Australia, with a Bachelor degree in Computer Science, a Master in Information Technology Management degree from the University of Wollonggong, Australia, and an Executive Diploma in Finance & Corporate Accounting from HKU Space. She is a PRINCE2 registered Practitioner, certified IT Project Director (HKITPC) and a certified Project Management Professional (PMP both in China and HK). She has presented on behalf of PCCW at different seminars and conferences in HK, China and Taiwan
Ms. Yau is also a full member of Hong Kong Computer Society and Project Management Institute (PMI). She was previously appointed as the Expert Group member of "Certification of Associated Project Manager" for HKITPC for 2008-2011 and Task Force Leader for the "Associated Project Manager Examination Review" for HKITPC in 2014-2015. Christine is also a Focus Group member of FACE Club (HKCS), the first IT Women Club in Hong Kong, assisting the EXCO in planning and organizing various activities of the FACE Club. She is also one of the founding members and executive member of HKCS iLEAP. She has always been very active in the other activities within the industry for more than 10 years: Chairman of the IT Club (2007-2014), the first outreach arm of PMI HK Chapter, the VP Education of PMI HK Chapter (2009-2013) and Executive VP (External) of PMI HK Chapter (2013-2019), and HKCS Council Member (2017-2019).
從事電訊業逾廿載,姚秀鳳女士領導集團資訊科技發展策略團隊,她領導了公司IS戰略和架構的開發和交付,她還在跨政府和企業內擔任過各種角色,負責各類項目。近年,姚秀鳳女士著眼爲公司香港以外的公司進行戰略規劃,推動亞太地區業務增長。身爲業界精英,姚女士熱心公益事務及培育資訊科技人才,爲資訊科技業貢獻良多。
姚女士畢業于澳洲墨爾本大學電腦科學學士學位,及獲得澳洲伍倫貢大學信息技術管理碩士學位。