General Manager – Mainland Business, Construction Industry Council
建造業議會内地業務總經理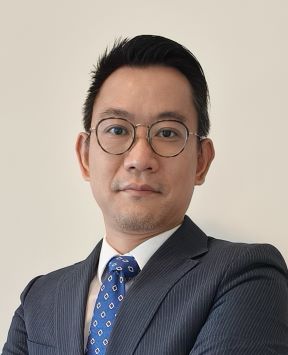 Gordon was graduated in major of Telecommunication Engineering from South China University and attain bachelor's degree in 2004, and complete postgraduate of Finance in Sun Yat-sen University in 2009.
Gordon was working in ICT (Information & Communication Technology) area for 22 years. Gordon had been working in Ericsson as Technical Manager, Senior Solution Architect and Senior Engineer role since 2004; And then worked in China Mobile Hong Kong as Deputy Head of Network, Deputy Head of Enterprise Solution, and VP of Corporate Market since 2016. In 2021, Gordon joined Bonjour Holdings Ltd as group's CIO, and Director & CEO of subsidiary Bonjour Technology Development Ltd. Gordon joined Prucom Digital Solutions Ltd as Chief Strategy Officer. Now he was GM of Mainland Business in Construction Industry Council.
Gordon's expertise includes telecommunication from 2G to 5G, IoT, Smart City, e-Commerce, ConTech, Digital Transformation, Technical Innovation, etc. He has ever led the team to finish Hong Kong's first NFV (Network Function Virtualization) network and the first NB-IoT network.
Gordon's Professional Qualification:
– Senior Computer Programmer, by Ministry of Information Industry, P.R.China
– Qualification of Legal Occupation, by Ministry of Justice, P.R.China
– Project Management Professional (PMP), by Project Management Institute (U.S.)
– Senior Solution Architect, by Ericsson Global Individual Assessment Program
– Solution Architect – Associate, by AWS
Gordon's Community Services and Other Membership:
– GBA 5G Industry Alliance, Director of Service Sector.
– HKTag (Hong Kong Technology Advancement Group), Council Member
– Institute of Measurement and Control (U.K.), Member (MInstMC)
– Hong Kong Institute of Directors, Associate Member (AHKIoD)
– Alumni Association (HK) of South China University of Technology, Council Member
郭先生於2004年畢業於華南理工大學電子與通信工程系並獲得學士學位;與2009年完成中山大學金融學研究生課程。
郭先生從事信息與通訊技術領域22年。他2004年加入愛立信公司並先後擔任技術經理、高級方案架構師、高級工程師等職務。於2016年加入中國移動香港公司並先後擔任網絡部副主管、企業解決方案部副主管、政企市場副總裁等職務。在2021年郭先生加入卓悅控股有限公司擔任集團首席創新總裁,同時兼任集團子公司卓悅科技發展有限公司董事兼行政總裁。2022年郭先生擔任普特瑞科技公司首席策略官。郭先生現在為建造業議會内地業務總經理。
郭先生專業領域包括電訊領域從2G到5G、物聯網、智慧城市、電商平臺、建築科技、數碼化轉型、技術創新等。他曾帶領團隊成功部署香港首個NFV(網絡功能虛擬化)網絡、香港首個NB-IoT(窄帶物聯網)網絡。
郭先生的專業資質:
– 高級程序員,中國信息產業部(現為"工業和信息化部")認證
– 法律職業資格,中國司法部認證
– PMP項目管理專業認識,PMI項目管理學會(美國)認證
– 高級方案架構師,愛立信全球認證
– 助理方案架構師,AWS認證
郭先生的社會服務及其他會籍:
– 大灣區5G產業聯盟,服務行業總監
– HKTag香港科技創新促進組,理事
– 測量與控制學會(英國),會員
– 香港董事學會,附屬會員
– 華南理工大學香港校友會,理事