e-commerce Logistics Ltd. (ecL)'s open-platform Warehouse Management System (WMS) incorporates state-of-the-art warehouse and distribution management with the latest web technology. WMS offers real-time online visibility of inventory levels, order processing and tracking, providing cost effective and highly efficient supply chain management to its customers in Greater China.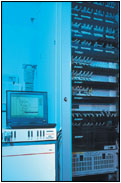 The WMS provides real-time information supporting the ¡§last mile¡¨ in the supply chain by incorporating database management, open Web and PalmTM platform. It delivers on the "many-to-one, one-to-many" concept and enables detailed fulfilment for tens of thousands of stock keeping units (SKUs). Through the capture of transaction data, the WMS provides all the information required for the measurement of key performance indicators, which allow for a continuous improvement of standard operating procedures. Many of ecL's clients have benefited from this sales logistics approach with increase in revenue, decrease in working capital, lower inventory levels, increased productivity and a greater understanding of customer requirements.



Headquartered in Hong Kong, with logistics and fulfilment centres in Hong Kong, Taipei, Shanghai and Guangzhou, e-commerce Logistics is a leading supply chain management services provider in Greater China, offering consultancy, information systems and physical logistics services. Following the successful development and deployment of WMS in-house, ecL is planning to make the WMS software and consulting services available to companies who operate their own warehousing and distribution facilities.