Chief Technology Officer, PCCW Solutions Limited
電訊盈科企業方案首席科技總監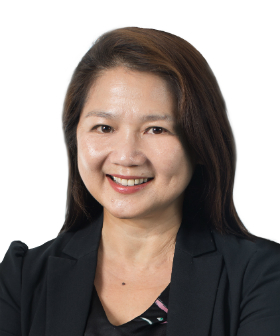 Christine Yau has over 30 years working experience and her experience spans across various industries in Hong Kong and Asia Pacific region.
She rejoined PCCW Solutions Ltd in May 2022 and is currently the Chief Technology Officer of PCCW Solutions Ltd.  Prior to that, she joined MTR Corporations Ltd. in July 2020 and left on 30th April 2022.  Her last position at MTR was Acting Chief Information Officer.  Prior to joining MTR, she was at PCCW Solutions Ltd, where her last role was the Senior Vice President and Head of Public Industry. Apart from managing the P&L for the Public Industry, she was also involved in managing mega size projects in government sector and she has held various roles such as Project Director, Project Manager, Quality Assurance Manager, Business Process Re-engineering (BPR) Change Manager, IT Architect and DBA, both in Hong Kong and Australia. She has also helped to grow the business outside of Hong Kong, e.g. in the South East Asia.
Ms. Yau graduated from the University of Melbourne, Australia, with a Bachelor degree in Computer Science, a Master in Information Technology Management degree from the University of Wollonggong, Australia, and an Executive Diploma in Finance & Corporate Accounting from HKU Space. She is a PRINCE2 registered Practitioner, certified IT Project Director (HKITPC) and a certified Project Management Professional.
Christine is a full member of Hong Kong Computer Society (HKCS) and has been serving at HKCS as a Council Member since 2017. She is currently holding the role of VP Talent Cultivation (2019-2021). She is also the Chairlady of the HKCS FACE Club, the first IT Women Club in Hong Kong, since June 2020. Christine is one of the founding members of HKCS iLEAP and executive member of HKCS iLEAP from March 2017 to April 2021.
Christine is a member of Project Management Institute (PMI) and she is currently the President of PMI HK Chapter (2019-2021). She started volunteering at PMI HK Chapter since 2009, holding various roles during the past 10 years.