Project Manager, IT Sub-division, Hong Kong Housing Authority
香港房屋委員會資訊科技分處項目經理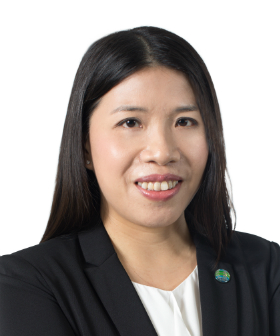 Ms. Kylie FUNG has served IT Sub-division of Hong Kong Housing Authority (HA) as a Project Manager since 2009.  She oversees the implementation of IT quality standards and quality assurance of system development and maintenance for supporting the operation of HA.
Prior to her current position, Kylie served various roles in PCCW Solution Limited which is a leading IT services company in Hong Kong and Mainland China.   She was responsible for quality management, product marketing and IT outsourcing consultancy services.  She also served as Service Delivery Manager for providing on-going IT service delivery and support in government departments and commercial organizations.
Kylie actively participated in different roles and activities organized by Hong Kong Computer Society (HKCS) in past years, serving as Chairperson of Youth Club, Vice-chairperson of Community Services Committee, Member of Membership Committee as well as Communication and Marketing Committee, Chairperson of Judging Panel of Outstanding Young ICT Achiever Award in 2008 and Organizing Committee of various major events including Hong Kong International Computer Conference (HKICC) from 2003 to 2013, Shanghai–Hong Kong Youth IT Summer Camp and etc.
Kylie holds a Bachelor's degree in Management Studies from University of Hong Kong and a Master's degree in Business Administration from Northeast Louisiana University, Louisiana, U.S.
馮秀婷女士現職香港房屋委員會資訊科技分處擔任項目經理,負責推行資訊科技服務管理標準及監管系統開發及維護的質素,以支持房委會的日常運作。
馮女士現爲香港電腦學會的對外事務總監。歷年來,馮女士積極參與及支持業界的發展,在重點大型活動中擔任不同角色,如香港資訊及通訊科技獎商業方案獎籌委會主席、香港國際電腦會議籌備委員、及杰出青年資訊科技成就獎評審委員等。馮女士畢業于香港大學管理學學士,及獲得美國劉易斯安娜州東北大學頒發工商管理碩士學位。