Senior Vice President – Solutions Consulting, KBQuest Hong Kong Limited
香港智識庫件有限公司高級副總裁 – 解決方案顧問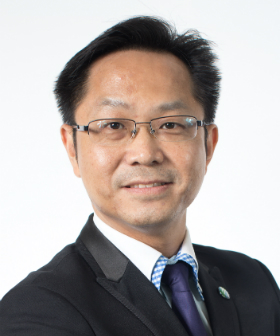 Mr. Dennis Lee is the Senior Vice President of KBQuest Hong Kong Limited, currently managing the ICT solution development operations, customer services delivery & engagement. Prior to this, Dennis has served as the Senior Manager – ICT Cluster of the Hong Kong Science and Technology Parks Corporation. He has extensive years of ICT management experience, having held ICT management positions in a number of well-known multinational listed companies such as Barclays Group, Motorola, Saatchi & Saatchi, iBasis Inc. and a few software houses and systems integrators specialized in providing enterprise management systems, business intelligence and the Cloud computing software services consultancy.
Being the Life Fellow member & the Council Director of Professional Development – Hong Kong Computer Society, Mr. Dennis Lee is very active in the professional development & community services: like the Chief Assessor & Judging Panel of the HKICT Awards, the member of HKCS IT Summer Camp Organizing Committee, the former Chairman of the Electronic Business Special Interest Group, the founding Chairman of the former Cloud Computing Special Interest Group (reformed Enterprise Architecture SIG in 2018), and the founding Chairman of the Smart City Special Interest Group.
Mr. Lee obtained his MBA degree from the University of Abertay Dundee UK and a MSc Information Systems degree from the City University of Hong Kong. More recently, he is pursuing a part-time engineering Doctoral research degree in the Hong Kong Polytechnic University.
李振強先生現職是香港智識庫件有限公司高級副總裁,負責管理ICT解決方案開發運營,客戶服務交付和管理。在此之前,李先生曾擔任香港科技園公司的ICT集群高級經理,曾在多家知名跨國上市公司擔任ICT管理工作,如巴克萊集團,摩托羅拉,盛世廣告集團(Saatchi & Saatchi),iBasis Inc.以及多家軟件和系統集成公司等等。
作為香港電腦學會終身資深會員及理事會委員會專業發展總監,李先生經常積極參與專業發展及社區服務例如:擔任HKICT Award的首席評估員及評審委員會,HKCS IT夏令營組委會成員,電子商務專題組前主席,前雲端運算專題組(2018年已改組作企業架構專題組)及前智慧城市專題組的創組主席。
李先生早年畢業於英國鄧迪阿伯泰大學,取得工商管理碩士學位,並在香港城市大學獲得信息系統碩士學位,現正在香港理工大學進修兼讀工程系博士研究。