Innovation and Entrepreneurship Club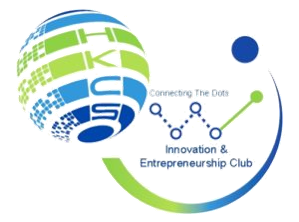 Objectives
To increase awareness among members the importance of innovation in developing solutions using technologies;
To assist members in the development of skills and the reinforcement of behavior that are conducive to innovative endeavors;
To assist members in the honing their entrepreneurship skills;
To assist members transiting from technologists / academia to technology business operators;
To advise governments, other organizations and policy makers on matters which are related to innovation, entrepreneurship, career development and job creation;
To cultivate cultural change and mentoring to accept failure;
To become part of the ecosystem with other relevant organization;
To augment the support to entrepreneurship.
Membership
Welcome all members, including student members, of HKCS. Coaches are invited and they are not restricted to HKCS members.
Committee Members
The EC manages the Club and it is consisted of 11 officer bears, namely:
Chairperson:
Mr. Andrew McLachlan
Vice Chairpersons:
Mr. Arthur Au
Mr. Joseph Koc
Committee Members:
Mr. Michael Au
Ms. Teresa Chan
Ms. Anita Chau
Ms. Clara Hong
Ms. Katherine Lam
Ms. Dorothy Wong
Committee Advisors:
Dr the Hon David LI Kwok-po, GBM, GBS, JP
Coaching Program
We offer the opportunities to the HKCS members, not limited to student members, for coaching them in their journey of innovation and entrepreneurship.
We have enlisted experienced (typically older) professionals who are experienced in the multi-dimensional disciplines throughout the process of innovation and entrepreneurship. They provide the career guidance, advice and assistance from their real world experience.
The bond and rapport between the coach and the apprentice can be evolved to become a mentor/mentee relationship.
Benefits
A good coach/mentor is wise and willing to share his or her knowledge and experiences. It's like having a wonderful trusted ally to go to whenever one is feeling unsure or in need of support. They can help setting up and achieving career goals, making smart business decisions, overcoming workplace challenges, learning new skills or simply offering an outside perspective when one is facing frustrations at work. The benefits are truly endless.
Selection & Relationship
Look for the coach who is someone has a career you'd like to emulate and/or who embodies the professional characteristics that are desirable to achieve. That doesn't mean to follow in their footsteps exactly.
The coach/mentor must be willing as well. He/she is eager to share knowledge, will be open and honest with you, will have time to dedicate to you (though how much is flexible) and is trustworthy.
It is recommended that both sides like one another on a personal level, not just a professional one. The conversations should be pleasant, engaging and inspiring.
The arrangement, formal or casual, between the coaches and the apprentice are private matters between them.
The motivations of the coaches/mentors
The coaches received multiple mentorships during their growth years. They have no way to pay back their coaches/mentors. Their only way to pay back is to become coaches/mentors themselves. Furthermore, the coaches/mentors simply believe in the person they are helping and want to see him or her succeed, and that alone is worth the time and energy. Others look at mentorship as a way of leaving a legacy. The coaches/mentors like to pass their wisdom down to the next generation. The coaches/mentors have the power to make a huge difference in the society, the industry, and even the world.
It's a win-win situation.
Coaches
Mr. Arthur Au

Before his legal career, Arthur worked at Guidant Corp. in Santa Clara, California, a top manufacturer of cardiology medical devices where he had a wide range of R&D and project management responsibilities, and help brought numerous class leading products to market including coronary and peripheral stents, angioplasty balloons, and coronary artery by-pass surgical equipment.

Arthur started his legal career at a renowned Silicon Valley patent boutique firm specialized in computer software and hardware arts in Silicon Valley, having worked with clients such as Intel, Cisco, Apple, and Google. He was Intellectual Property Counsel and Director of Intellectual Property at Thoratec, a NYSE listed company, which specializes in implantable heart pump. He managed and oversaw all aspects of intellectual property at the company and helped grow the company's patent portfolio by over five fold through acquisition of patent portfolios and internal filings. Arthur worked closely with R&D, corporate business development, marketing, and other stake holders in developing strategies for product growth and in identifying assets and technology for acquisition or licensing. He returned to Hong Kong practicing commercial intellectual property law at Deacons. Arthur now is a consultant at Axiom where he provides consulting services to multinational businesses, including the Hong Kong Stock Exchange.

Arthur is an independent non-executive director of China Success Finance Group Holdings Ltd. (HKSE 3623).

Arthur is interested and passionate about the development and application of technology and particularly enjoys working with technology clients in achieving their business objectives. Arthur has a Bachelor's Degree in Biomedical and Electrical Engineering from Duke University, a Master's Degree in Biomedical Engineering from Case Western Reserve University, and Juris Doctorate Degree from the Santa Clara University School of Law. He is a qualified lawyer from California and a registered U.S. Patent lawyer with the US Patent & Trademark Office.


Mr. Billy Chan

Billy Chan is the Operation Manager and one of the Principal Consultants of Qualicom Innovations (Asia) Limited.

Before joining Qualicom, Billy worked in the US and Canada. He was with LSI Logic's connectivity group as well as FPGA Implementation Tools group of Xilinx Inc, first as integrated circuit deign engineer, then as circuit design engineering manager. His last position with Xilinx was the software engineering manager. Billy has over 12 years of experience in the semiconductor and EDA industry. He is the inventor / co-inventor of several US patents in the area of FPGA design, logic synthesis and optimization algorithms.

He holds a B.Sc. degree in Computer and Electrical Engineering from Purdue University, and a M.Sc. degree in Computer Engineering from the University of Toronto.


Mr. William Chan

William Chan is an experienced Internet and software technologist. He is currently the Co-founder and Managing Director of Visual Squares Ltd. Before returning to Hong Kong, William worked for Google and a Cisco-acquired startup in Silicon Valley for 8 years.

William graduated from Stanford University with a B.S. and M.S. in Computer Science and received the Frederick Emmons Terman Engineering Scholastic Award.

Mr. Joseph Koc

Mr Koc is responsible for the development and implementation of marketing strategies and related business best practices in the Infrastructure and Services Division at Jardine OneSolution (JOS). He is also responsible for the development of the Group's corporate branding and communication strategy.

Mr Koc joined JOS in 1988 and has since been involved in different facets of the Group business. Initially engaged in various wholesale distribution efforts, including the distribution of computer peripherals and enterprise networking products, Mr Koc subsequently took charge of the direct end-user business, focusing on consumer and SME customers. Since 2000 his core responsibility has increasingly shifted towards charting out the overall sales and marketing strategy of the Group.

Mr Koc was appointed to his current post, Group Marketing Director, Infrastructure and Services Division, Jardine OneSolution, in July 2014.

He holds a Bachelor of Arts degree in Computer Science and an MBA with emphasis in Management of Information Systems and International Marketing, both from Indiana University, Bloomington (USA).


Mr. Andrew McLachlan

He came to Hong Kong from Sydney, Australia in 1973. He worked at the Jardine Mathesons Holdings for many years. He was responsible for the strategic direction of Jardine in their entrance into IT technology and business. He set up the first intelligent building, the Exchange Square, in Hong Kong.

Andrew held senior managerial positions with international Asia Pacific companies such as Jardine Matheson and LM Ericsson in Australia, Hong Kong, Singapore and China, responsible for key management decisions in telecommunications activities value added service business (Engine Program) and service providers in mobile and wireline consulting and services.

His core competency are sales and marketing of large and small scale IT and Telecom integration, and management of telecommunications products and services.

His past achievements include not limited to: Design and integration of the technology platform for the trading floor and IT support for the Hong Kong Stock Exchange, and Call Centre design and replacement for the Hong Kong Jockey Club.

He is now CEO of Morning China Holdings Limited & Chairman of Eight Dragons Asset Management Limited – Mentoring, capital training and Investment for leading edge technology companies.

Was with Ericsson (China) as Vice President, Wireless Data Systems Solutions and Services, for Hong Kong & China, based in Shanghai & Beijing.

Andrew has been regarded as one of the pioneers in Hong Kong ICT Technology and Business referred in the book "The Computer Age in Hong Kong".


Mr. Stephen Wong

Stephen started his career with Digital Equipment Corporation in 1988. He had also worked with HSBC, the Chinese University of Hong Kong Computer Services Centre, Hong Kong Tourism Board and Somfy SAS. He is currently the Regional IT manager for Asia Pacific in A. Schulman Inc., which is headquartered in Akron, Ohio, USA. A. Schulman has over 50 manufacturing & support facilities in North and South America, Europe and the Asia-Pacific region. Stephen is responsible for both Infrastructure and Systems' deployment in the region that includes Australia, China, Hong Kong, India, Indonesia, and Malaysia. He also co-founded an ERP developer called AutoSimply in Hong Kong.

Stephen is interested in teaching, he taught as part-time tutor / lecturer with the Open University of Hong Kong and University of Southern Queensland, Australia on various Computer Science / IT subjects. He is also an amateur live sound / recording engineer. He teaches audio engineering courses for more than 10 years.

Stephen holds a B.A. degree in Computing Studies from Hong Kong Polytechnic University and an MPhil degree in Computer Science and Engineering from the Chinese University of Hong Kong.

Dr. Geoffrey Yuen

Dr Geoffrey Yuen is VP, Emerging Technology at Hong Kong Telecom, looking after new business opportunities based on emerging technologies and markets. His work is focused on helping executive decision making, as well as business and product development.

He has developed a number of pioneering internet & telecom services including the World's first commercial retirement planning web service (Morningstar, Chicago, 1999), the unique TV-web synchronized broadband content service "Network of the World" (PCCW, Hong Kong, 2000), a convergent billing-order management platform in Hong Kong (PCCW-HKT, Hong Kong, 2003) and first commercial home telehealth service in Hong Kong based on m2m, B2B and B2C linkup to cloud (2011). Currently he is focused on big data and deep learning commercialization for ICT.

He can provide consultation based on his work experience and knowledge as technology advisor/manager, business developer, engineer and scientist but particularly for the following areas: digital health and mass market health engagement, internet and telecom technology and product development, computational neuroscience and neural networks and biomedical engineering.

Holds a BS in Chemistry from Wheaton College and PhD in Biomedical Engineering from Case Western Reserve University. He completed his postdoctoral in Computational Neuroscience at Northwestern University.

Activity Plan
Invite speakers, both local and international, to give talks sharing their experiences in innovative problem solving and entrepreneurship;
Organize visits to different companies, universities, research institutions, industry parks, cities in the region that are exemplifying the concept of
innovation and entrepreneurship;
Establish mentorship program with selected incubation centers in the region;
Arrange general public talks.
Orchestrate a coaching session every two to three months to coach the invited entrepreneurs and startups.